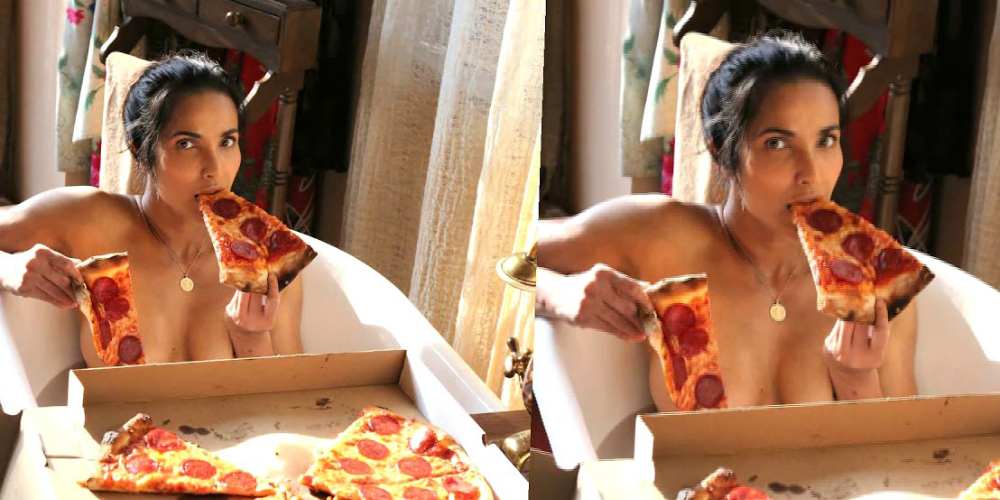 Padma Lakshmi struggles to keep this pizza warm
Beautiful Padma started her career at the age of 16. Since that time she was firing male minds all over the universe. Tall, sexy with sooty skin, soft lips and big hazel eyes – what a man could refuse finding someone like her in their bed?
Lakshmi made fantastic TV career. Now a 48-year old is a popular chief host and people's minds refuse tot recognize her as a stunner. But Padma won't give anyone a chance to file her away in storage. With her latest Instagram album she just reminded us what a sex bomb she still is.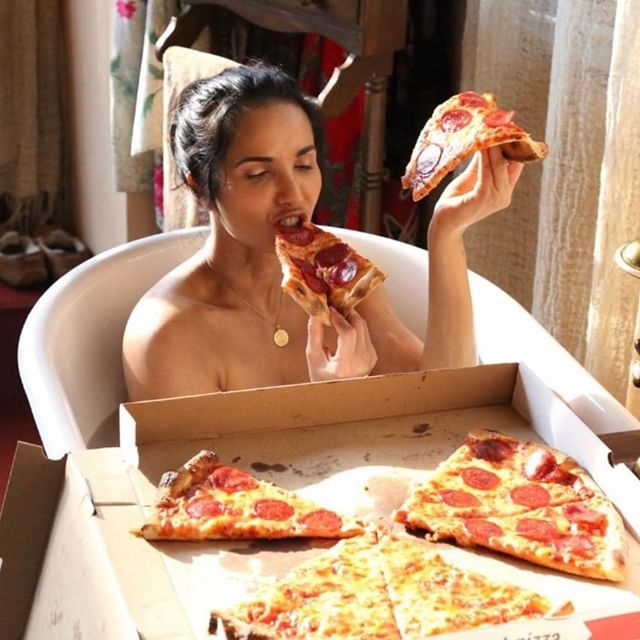 Her fans were not ready for such revealing photos, but nobody refused to check them out… twice. Padma was snapped there resting in a bathtub with a glass of red wine and a box of pizza. It was obvious that Lakshmi was totally naked there. She only used 2 slices of pizza to cover her assets.
It is obvious that her body is still fit and sexy and one can hardly tell she is actually approaching to her 50's. Top Chef hostess could remove those 2 pizza slices to proudly flash her body, which is gorgeous. But that could violate Instagram's Community Guidelines. The message to her photos stated: 'Behind the scenes of the "pizza shoot" #nationalpizzaday #bts'.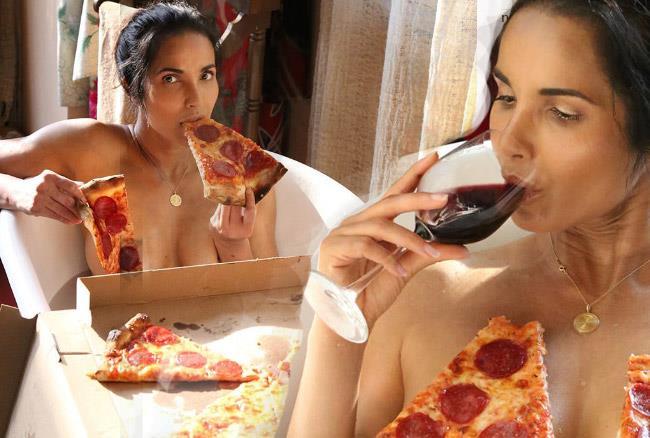 Padma instantly got a bunch of pleasing comments. People say she is inspiring them and they love the photoshoot theme a lot. So, if you soon see Insta girls posting similar snaps to their accounts – you know whom to thank. Although, there were people who thought she should think about her parents and daughter seeing their beloved mom and child sitting naked in the bathtub. People were pointing at her religious necklace and insisting she should take it of for her shameful photosets.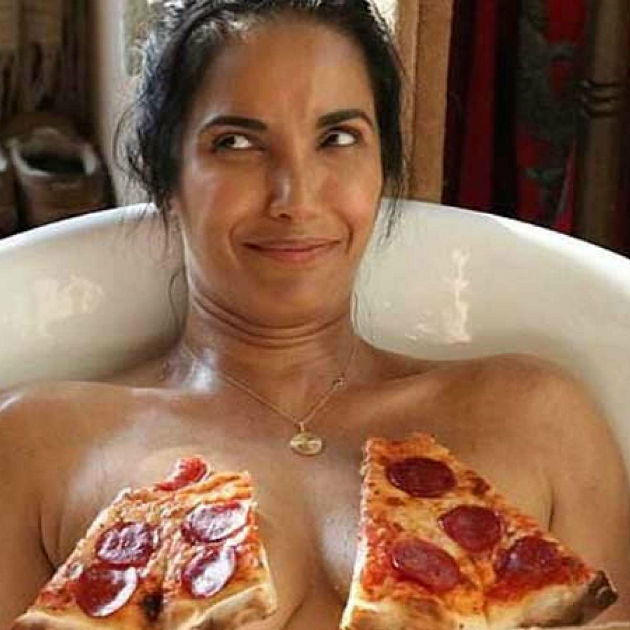 But, as a wise lady, Padma never reacts to public shaming. What for? She is a successful woman, a popular actress, model, TV hos and book writer. Together with it, Padma is a single mom. She has an 8-yer old daughter Kristina with her ex Adam Dell (the guy, whose brother settled Dell inc.)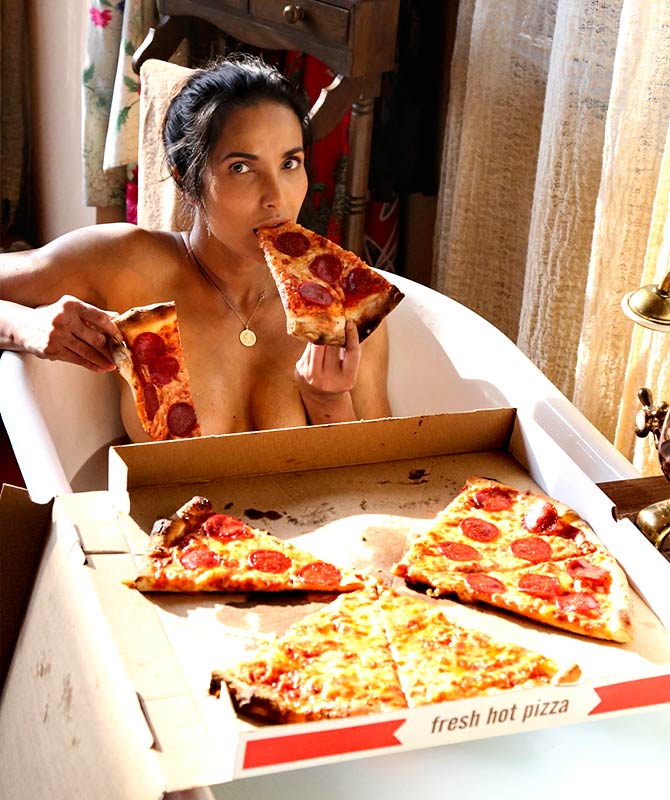 Despite the fact that the couple broke up, Lakshmi says she still is the happiest woman alive thanks to her daughter, family and her fans. And although being a single mom is hard, she never feels she is alone with such a support. Her instagram is stuffed with photos and videos of her and her child having fun together, and we should say Padma looks great. She belongs to the type of a girl who get better with age.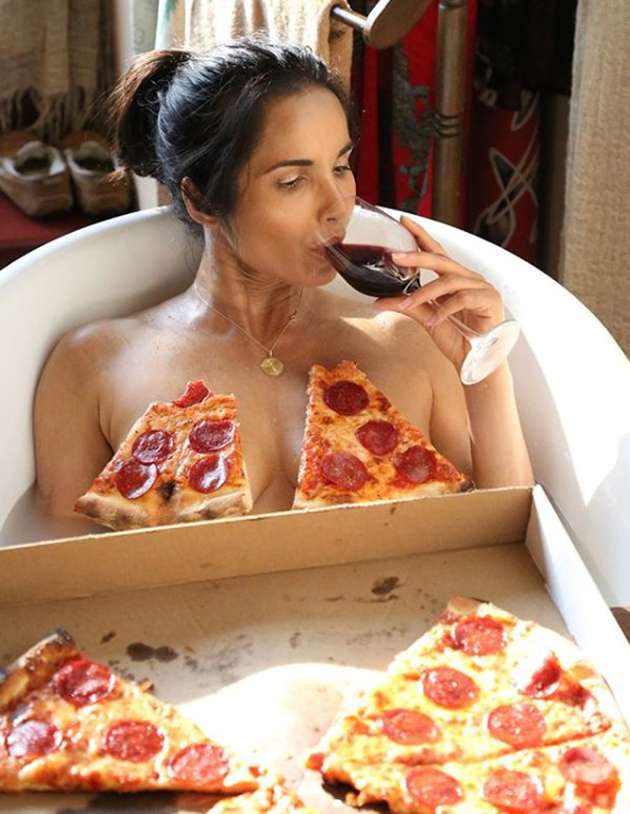 The actress says she is never ashamed of her body and she loves posing in tiny shorts or bikinis. She hopes her daughter is proud of her mom being beautiful and sexy despite all the difficulties she had in her life. And we just hope Padma will please us with another food photoshoot. But she should go for some smaller slices. Sushi could work great on her body. Or grapes. Or even raw rice.