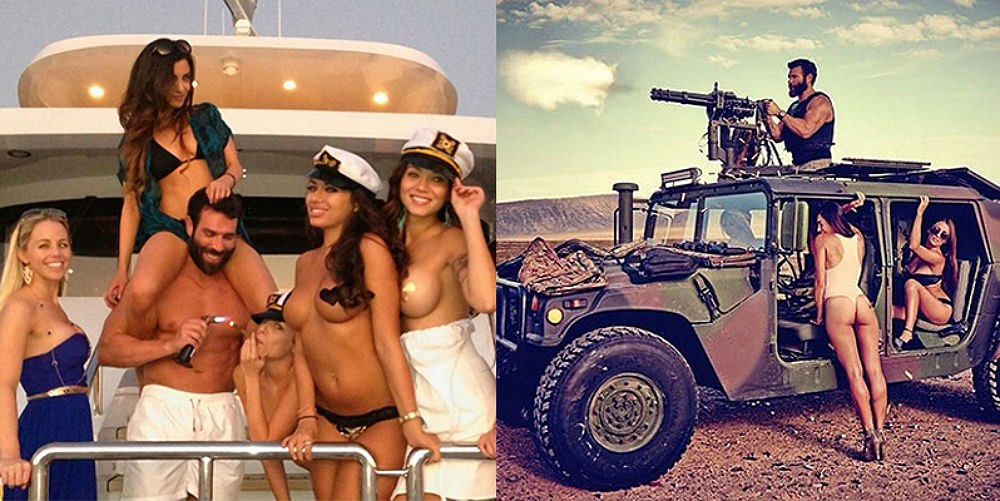 All Truth About Dan Bilzerian
This weekend I met up with a girl I have been heavily friend zoned by. And this time, she denied an offer to go out for a date again. That was stronger than me, and I asked her straight in her eyes: Jennifer, you are single, I am single. Why do not you give me a chance? What or whom are you looking for? She replied staring at her feet: I want him to be like Dan Bilzerian. I swear I felt my ears steaming.
There is no doubt – he is the one and only king of Internet with his millions of followers on Instagram, who press thousands of likes to his images with sexy naked chicks, weapon, and stakes of cash. But is he that cool? Is he worth dreaming of? I can agree his beard looks awesome, and his body is super ripped and fit. The guy lives his life to the fullest wasting millions for pleasures, and he claims he made his fortune from poker tournaments.
The legend says he was about to go broke when he sold his gun for $750 and turned them in $10,000 in one evening. Then he booked a one-way ticket to Las Vegas and there his $10,000 became $187 million. Sounds impressive, isn't it? However, if you step in his shoes for a second and think it all over – you will realize one should have an impressive sum on his secret bank account to take a risk of placing everything at stakes.
After a short investigation, I have found the trace of Bilzerian's wealth. He inherited a fortune from his dad. If you think that was the money of an honest businessman – you are wrong The cash was as dirty as your thoughts when you see a hot girl in a tight dress. His daddy was accused of fraud. SEC almost stepped on his tail, and Paul Bilzerian got to jail where he spent 13 long months. After he was out – he claimed himself broke. But that won't be a surprise that his all cash were secretly transferred. Where? Take a look at Dan's and his brother Adam's mansions, jets and supercars which they owed way before Dan became a lucky poker winner.
It was then when Paul Bilzerian opened an irrevocable trust for his son's, roughly worth $11.96 million in shares. That means half of that money went to Dan. But does that money belong to the SEC? Some experts say that "Transfers of assets to family members for well less than their market value have, for centuries, been marked as 'badges of fraud."
The head of the family was ordered to pay $62 million to the victims of his scam. To this day, Paul gave back just $3.7m of his $62m debt. The SEC didn't stop, and Paul's wife said: "We lost, and we lost everything." Paul also admits that the fight with the SEC destroyed his life and devastated his family. But still, he is not willing to pay the government for his debt. He is thinking of maybe taking another round with the SEC and filing motion to undo their judgment.
So, after you read this, do you still have a wish to mess up with someone like Dan Bilzerian?